Voices from the Green City in different fields
Prof. Dr. Rüdiger Engel
Head of the Dietenbach Project Team for the City of Freiburg
The City of Freiburg has long been setting trends for sustainable, environmentally responsible urban development. With the new Dietenbach district, we are minimizing land use, creating affordable housing for all, and implementing a smart mobility setup that makes it possible to live without needing a car. We are guided by the principles of the circular economy in construction. As such, we aim to help Freiburg become a climate-neutral city as quickly as possible. All of this must be done in a socially responsible way, with barrier-free spaces and excellent educational opportunities for the people who live in the district. It's worth having a closer look at Freiburg!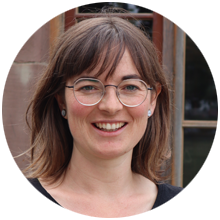 Svenja Fugmann
Green City - I associate this term with a municipality's path towards a livable future, and specifically with all stakeholders. In line with the objectives of Education for Sustainable Development (ESD), the Ökostation educational center for environmental awareness empowers people to get involved and be responsible actors.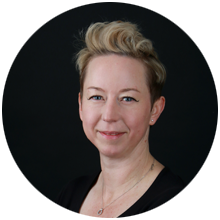 Andrea Katzer-Hug
Head of Building Management for the City of Freiburg
The variety of architectural forms when it comes to urban design, coupled with green oases throughout the city, makes our Green City one of Germany's most livable and lovable cities.
The flagship, our town hall in the Stühlinger quarter - the largest building in Europe with the ambitious goal of being a net zero-energy building - is pointing the way towards a future that combines amazing architecture with comfort and sustainability.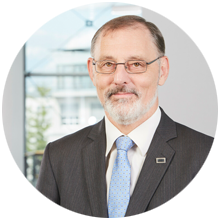 Prof. Dr. Andreas Bett
Director of Fraunhofer ISE
For decades, Fraunhofer ISE has enjoyed synergy between itself and the developments related to Green City Freiburg. What's more, thanks to the wide range of sustainability activities being pursued in the region, Freiburg is an attractive location not only for the institute itself, but also for many of our spin-offs.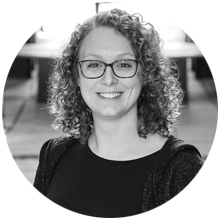 Julia Mayer
>SMART> GREEN ACCELERATOR
In my view, the Green City Freiburg is supported by many innovative entrepreneurs who, with their ideas and business models, make a major contribution to a sustainable future and who significantly shape Freiburg as a business location. With the> SMART> GREEN ACCELERATOR, we want to specifically accelerate green tech startups and support them with effective programs and the targeted establishment of industrial partnerships.
Emma Mörmann, Noa Hadas
Students at Freiburg's Kepler-Gymnasium
As part of a seminar course at Kepler-Gymnasium, we had the unique opportunity in September 2019 to attend classes on environmental justice at a US high school in Portland for two weeks. During these two weeks, our environmental awareness grew a lot, as we got the chance to meet many inspiring people. Drawing on our experiences, we decided to write a seminar paper in Freiburg on how to incorporate the environment and environmental awareness even better into our everyday lessons. Our hope is that environmental issues will become a subject in its own right in Germany one day, just like in the United States.
 
We're thankful that this seminar course was offered at our school and that we had the chance to draw so much inspiration from it. We are also thankful that the citizens of Freiburg have so many great ideas for protecting and standing up for our environment, and that we get to call Freiburg, as a Green City, our home.

Dr. Klaus von Zahn
Head of the Environmental Protection Department of the City of Freiburg
 
Freiburg shows how a city can further transform into a livable city of tomorrow with the help of environmental and climate-protection projects, a shift in transport policies that people embrace and, last but not least, committed citizens. It's worth visiting this workshop of sustainability with a view to the future and getting inspired by the Green City lifestyle.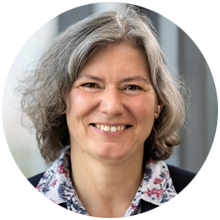 Prof. Dr. Kerstin Krieglstein
Rector of the University of Freiburg
 
With its strategic focus on 'Environment and Sustainability' as a field of teaching and research, as well as its measures for sustainable operations, the University of Freiburg plays a key role in Green City Freiburg. Our scientists and scholars from different disciplines perform joint research on solutions to global challenges such as climate change and resource scarcity. In the process, they give equal consideration to issues of ecological, social, and economic sustainability. On the teaching side, we have plans to launch an interdisciplinary ecological studies program called Studium Oecologicum in the 2021/22 winter semester, which will be open to all students. And in terms of the university's operations, we are also holding ourselves accountable with our environmental guidelines: in line with the state strategy of Baden-Württemberg, we are striving for climate neutrality by 2040.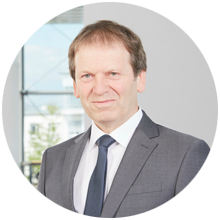 Prof. Dr. Hans-Martin Henning
Director of Fraunhofer ISE
Green City Freiburg is an excellent center of science for Fraunhofer ISE with outstanding ties to the university. In addition, the institute time and again serves as a research partner for pilot projects, such as the town hall in the Stühlinger quarter. And last but not least, the city has been contributing to the continuous development of Europe's largest solar research institute for decades through the support it provides.
Gerda Stuchlik
Deputy Mayor, Department of the Environment, Forestry, Waste Management, Youth, Schools, and Education
The 'Freiburg Green City' website has succeeded greatly in presenting the wide range of structures and projects dedicated to sustainable urban development in Freiburg in an effective way. The unwavering interest in these issues, the demand for information about them, as well as the numerous visits from experts all impressively demonstrate just how important this topic is. How can a city become climate-neutral? How can a city remain a habitat for animals and plants despite urban structures? What information and educational opportunities does an interested public need in order to participate in the process of sustainable urban development? With its resolutions on the climate-protection plan and the Freiburg Manifesto for Climate Protection and Species Conservation, the City Council has set an important course for the future. I am convinced that these issues will become even more topical in the future. And the exchange that the Green City Office so successfully organizes with other dedicated municipalities, with networks and associations, and with scientists and researchers, is a key catalyst in the development of sustainable solutions for a livable city of the future.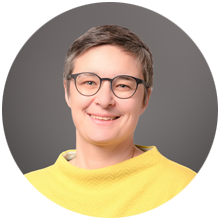 Hanna Böhme
Managing Director of Freiburg Wirtschaft Touristik und Messe GmbH & Co. KG (FWTM)

I associate Green City Freiburg with the unique mix of civic engagement, innovative and entrepreneurial thinking, and focused setting of political priorities that have made Freiburg a trailblazer in sustainable urban development. Institutions and projects such as the Green City Cluster, the Green Industry Park, the Smart Green Startup Accelerator, as well as events such as the convention for climate-neutral municipalities called Kongress Klimaneutrale Kommunen, are playing an important role in the efforts to make the vision of a climate-neutral city by 2050 a reality.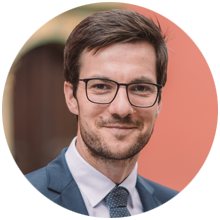 Martin W. W. Horn
Mayor of the City of Freiburg

Freiburg is widely regarded as a role model when it comes to protecting the environment and the climate, with the Green City's ambitious sustainability policies receiving attention and recognition from across the globe. A 'green' industrial park, an ecological showcase neighborhood, and a town hall that produces more energy than it needs from external providers are just three examples of the many measures we have enacted to protect our environment and the climate. You can find more information here on our Green City website. I warmly invite you to learn more about the City of Freiburg's measures and projects regarding sustainability and environmental and climate protection.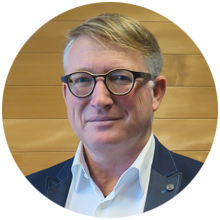 Markus Müller
WaldHaus Freiburg Educational Center
As a Green City, Freiburg enjoys an excellent reputation that extends throughout the country and even the world. The city and its actors have earned this reputation through their countless initiatives, be it in construction, mobility, renewable energies, urban development, or innovative technologies. The WaldHaus Freiburg educational center raises awareness of the forest ecosystem among people from the region and promotes sustainable forestry. The WaldHaus offers environmental education on forests and sustainability through guided tours and excursions, an exhibition, and events as part of the annual program. The various options on offer are directed towards the general public and school classes in particular, as well as tourists and guests from all over the world.